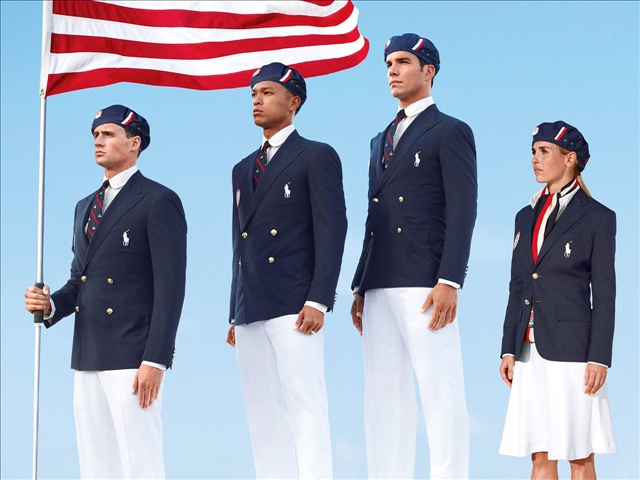 After noting that failing to have the U.S. Olympic team's uniforms made in this country was a serious missed opportunity, Peggy Noonan raises the other problem, which has occurred to me whenever I've seen photos of these ridiculous togs:
But that isn't the biggest problem. That would be the uniforms themselves. They don't really look all that American. Have you seen them? Do they say "America" to you? Berets with little stripes? Double breasted tuxedo-like jackets with white pants? Funny rounded collars on the shirts? Huge Polo logos? They look like some European bureaucrat's idea of a secret militia, like Brussels's idea of a chic new army. They're like the international community Steven Spielberg lined up to put on the spaceship at the end of "Close Encounters of the Third Kind."

Americans wear baseball caps, trucker hats, cowboy hats, watch caps, Stetsons, golf caps, even Panama hats and fedoras. They wear jeans and suits and khakis and shorts and workout clothes. The Americans in the now-famous uniform picture look like something out of a Vogue spread where the models arrayed on the yacht look like perfect representatives of the new global elite.

Our athletes aren't supposed to look like people who'd march under a flag with statues and harps and musical notes. Also, the women's uniforms make them look like stewardesses from the 777 fleet on Singapore Airlines.

The failure of the uniforms is that they don't communicate: "Here comes America."

They communicate: "Chic global Martians coming your way."
Amen to that, Peggy.
I saw a photo in the WSJ the other day showing the uniforms, and at first I thought sure they were on male fashion models — you know, the kind who are distinguishable from the female models only by slightly larger jaws, with neither gender looking entirely like normal, healthy humans? The effect was heightened by the fact that they were wearing clothing no normal person would wear.
I was shocked to learn they were actual American athletes. I'm still not sure the cutline was right. So maybe it was entirely the uniforms that made them look so unreal.