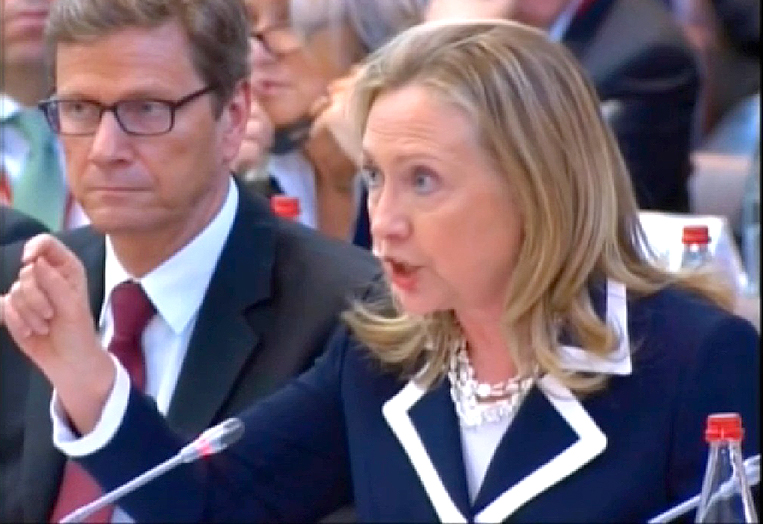 When the Cold War ended, we were supposed to finally get this New World Order that made it possible to advance the cause of civilization across the globe, without the agendas of competing superpowers overriding consensus in the United Nations. (Either that, or some global conspiracy to undermine national sovereignty and do dirt to People Like You, if you are of a conspiracy orientation.)
But time and time again, two countries — a superpower wannabe and a superpower used-to-be — have repeatedly, usually perversely, stood in the way of any effort to crack down on bad actors from dictators who crush their own people to nutjobs who seek to go nuclear. Time and time again, the best friend of the Assads of the world turn out to be either China or Russia, or both of them. (True, France and Germany also demurred when we were gearing up to go after Saddam, but that was an instance in which reasonable people could disagree.)
Now, Hillary Clinton has called them on it:
Syria crisis: Clinton lambasts China and Russia as Annan urges unity

Hillary Clinton demands rivals 'pay price' for backing Assad as UN's Kofi Annan warns Iran must play role in ending conflict

International divisions over Syria were laid bare today as Kofi Annan issued a blunt warning that world powers must end their "destructive competition" over the future of the Assad regime even as Hillary Clinton demanded that Russia and China "get off the sidelines" and support the Syrian people.

Clinton used a conference of the Friends of Syria group in Paris to demand that Russia and China join the three western members of the UN security council to pressure Assad over an escalating conflict that has left 15,000 dead and is inflaming the wider region…

Clinton called for "real and immediate consequences" for non-compliance with the peace plan, including sanctions against the regime, but with Russia and China boycotting the event, there was no chance of agreement on punitive action under Chapter 7 of the UN charter. "What can every nation and group represented here do?" Clinton asked. "I ask you to reach out to Russia and China, and to not only urge but demand that they get off the sidelines and begin to support the legitimate aspirations of the Syrian people.

"I don't think Russia and China believe they are paying any price at all, nothing at all, for standing up on behalf of the Assad regime," she said. "The only way that will change is if every nation represented here directly and urgently makes it clear that Russia and China will pay a price. Because they are holding up progress, blockading it. That is no longer tolerable."…
I like the "pay a price" part. I think if Hillary Clinton said I was going to pay a price if I didn't straighten up and act right, I'd believe her.
Wouldn't you?
You can see video of her address here.
Here's hoping her tough talk will have a good effect. Just as her apology to Pakistan (which has really had touchy inferiority complex ever since we killed bin Laden in one of their suburbs) did earlier in the week. Sometimes you need to make nice, other times not so much.
Related Posts