First, a heads-up — I'm unable to access my blog from the office today. Technical glitch. I'm writing this on my iPad, which itself is awkward. The iPad is connecting to the blog using my phone as a hotspot. Anyway, don't expect to see much from me today, beyond short responses typed on my phone…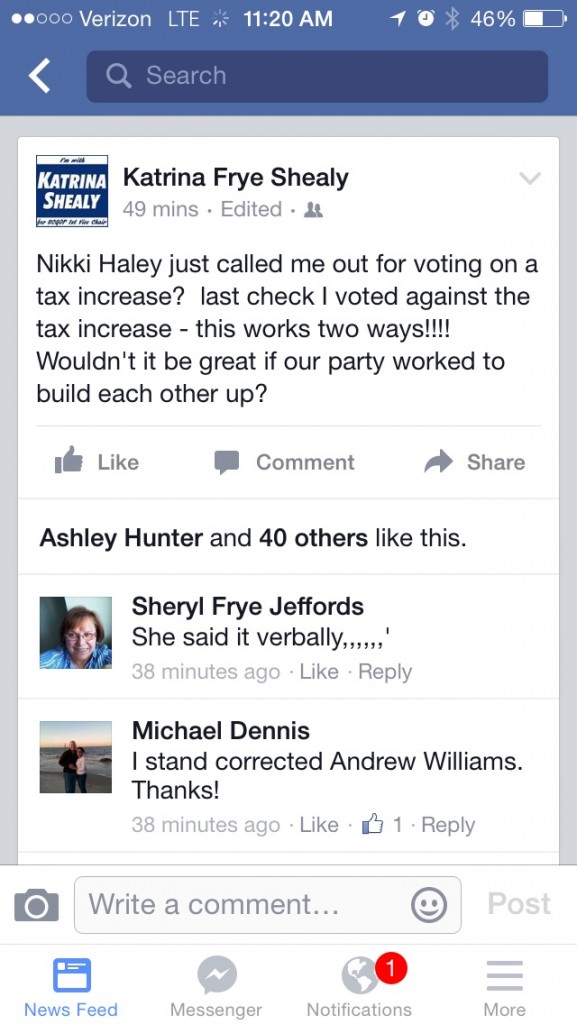 Sen. Katrina Shealy, who was elected 1st vice chair of the state GOP Saturday, got fairly ticked off over her governor's tirade against most Republicans in the Legislature, and expressed her irritation on Facebook.
I was unable to find the original post, so she may have taken it down. But someone saved the screenshot you see above.
later in the day, she expressed her concerns somewhat more calmly, as follows:
Today I was very upset when I felt like Governor Haley called out the Legislature during her Speech at the 2015 SCGOP Convention. Because it is the right thing to do I will apologize for getting as angry as I did – I don't apologize for feeling that this is a time when the Republican Party needs to be pulling together and finding common ground instead of finding ways to alienate each other. There are many serious issues before this state. We have 124 House Members, 46 Senators and 1 Governor – we needless to say do not all agree but that does not make us all wrong. As I have said before and I will say again if you expect people to agree with you all the time or not ever have an idea different from you, you need to talk to yourself. You are also going to eventually be very lonely! We have really tried over the last months to pull together and work out issues that are difficult and because of my way or no way attitudes in the House, Senate and yes the Governors Office we can't. The word compromise isn't a terrible word – really! I think Governor Jim Edwards used it very effectively. Maybe we need to take a page from his playbook!