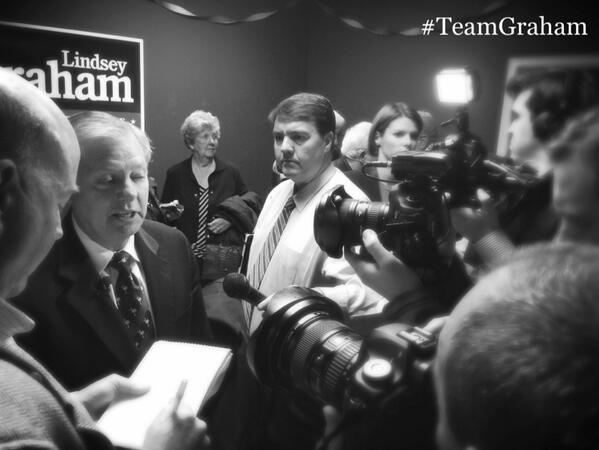 Remember the photos of protests in the Ukraine that I noted seemed more intensely real than a photograph could be? (Burl said they probably looked like that because of the HDR process, and I think he's probably right.)
This photo of LIndsey Graham meeting and greeting had a similar quality, I thought.
Graham aide Kevin Bishop — that's him in the center of the photo — tweeted it out earlier this week with the comment, "Proud member of #TeamGraham! pic.twitter.com/x1RnKRb8MR."
I wrote to him to say, "Nice picture. I like the lighting. Is it staged, or candid?"
"Candid," he replied.
And I suppose it would be. I don't think they would have struck those particular poses and expressions in a staged shot.
But there's something about the light that makes it look staged, and professionally so, as though a movie director were involved. And the black-and-white adds to the effect.
It seems like a Dewar's profile kind of print ad, or something like that.
See what I mean? Or is it just me?