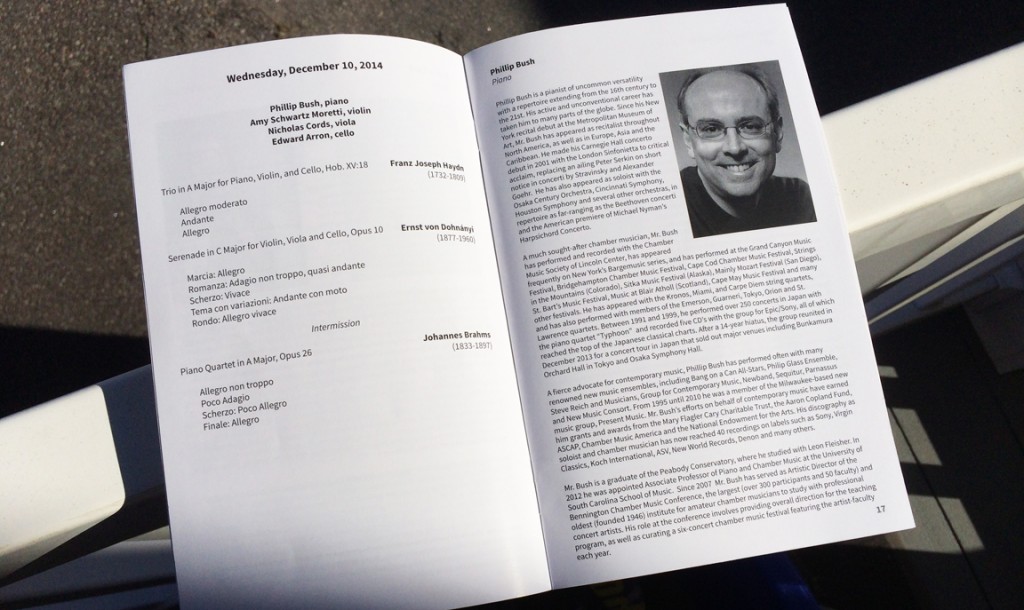 The wife and I had a treat Wednesday evening. At the last minute, one of our daughters obtained tickets for chamber music at the Columbia Museum of Art.
And one of the featured performers was our own Phillip Bush!
It was the first time I've actually heard Phillip in concert, and it was awesome. (I'm not counting this impromptu performance in Kathryn's salon.) Although he would have been even more entertaining had he given us some of the extremely intense facial expressions offered by the lovely visiting violinist. That was worth paying extra for.
But seriously, folks, Phillip is an amazing talent.
My favorite part of the program was the Haydn piece. The Brahms was wonderful as well, but I'm more of a classical-period guy, I guess.
I apologize for the low quality of the photo below. I shot it as the musicians were taking their positions as the intermission ended. I wanted a shot of Phillip and also of the violinist, so we could tell the Twins that if they really practice hard on their cellos, they, too, will be able to wear such a shiny dress.
That's Phillip behind the grand. The guy whose head you can see, not the guy in the khaki pants — that's his page turner. Talk about having a great seat! I was pretty envious of that guy…