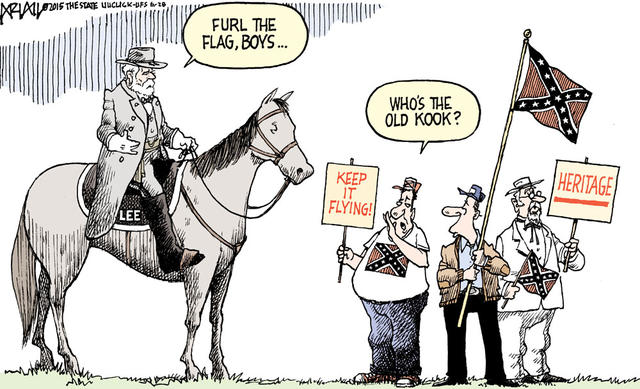 Some possible topics, and yeah, they're mostly related:
Governor issues record number of budget vetoes — Earlier, I wrote a post expressing my dismay that the governor was needlessly antagonizing lawmakers ("needlessly" in the sense of vetoing things she always gets overridden on) with the flag vote coming up. But you know what? I'm so concerned about not rocking the boat myself right now that I took it down, even though it was my only post today. THAT'S how hard I'm cheering for Nikki Haley right now. I didn't want to create ANY negative waves, Moriarty.
Greece fails to make key debt payment to IMF — You know what? After we get this flag thing done, maybe Nikki could go over and try to inject some fiscal accountability in Athens. There's a country that could really use a leader who's handy with budget vetoes. (And no, I'm not trying to get rid of her. She's my girl now. I'm just saying they could use some of her attitude over there.)
462 people shot dead by police this year — Just to bring back up a subject that Clementa Pinckney cared a lot about. (If it seems like I can't talk about anything right now without relating it to the Charleston massacre or issues related to it, well, I guess that's the case.)
Tillman statue vandalized — Well, again, I'm not for illegal acts that are likely to inflame passions at this delicate time. But you know, it's Ben Tillman. I'm probably not going to sit up nights worrying about his stupid statue.
KKK plans rally at State House — The KKK rally on July 18 gives lawmakers a nice, clear deadline by which to act on the flag. Present the Klan with a fait accompli…
Christie dismisses naysayers, launches long-shot 2016 bid — Don't know where he stands on the flag, but I'll let you know when I find out. Meanwhile… do y'all think he has a chance?
Anything else, y'all?