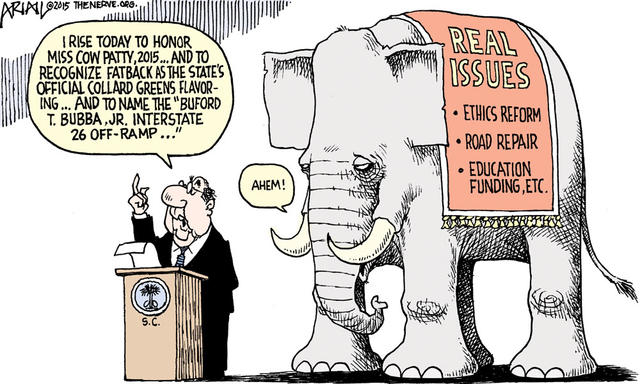 This is one of those in-between kinds of days in which there's no really overriding news. So you get the weird phenomenon of all of these news entities having completely different lede stories. Which might not be interesting to you, but is to me.
Here they are, in no particular order — since they're all ledes, right?…
Russian Energy Giant Finds Kremlin Links Cut Both Ways (NYT) — Which is all about EU going after Gazprom. This is after the EU went after Google. But I think that's kinda different, don't you?
Google Unveils Wireless Service Called 'Project Fi' (WSJ) — Of all these stories, I may be the most interested in this one. But as an editor, I don't consider it the most important, and would lede with it. And when I read that it won't work with iPhones, I lose personal interest as well…
S.C. agency changes policies after lawsuit by transgender teen (The State) — Lemme explain this to you: It seems that she… I mean, it seems that he… well, I lack the vocabulary. I tell you what, though: Cases such as this are a good argument for bringing back the inclusive "he." They still do it in Spanish, after all…
Senate OKs Human-Trafficking Bill, Paving Way For Attorney General Vote (NPR) — Actually, it's a little hard to tell from the NPR site what they consider to be the lede, but I think this is it. On second thought, I doubt that they even think about it at NPR.
Italy 'at war' with migrant smugglers (BBC) — This ongoing story, of course, gets bigger play over across the pond.
How's that for a Smörgåsbord?