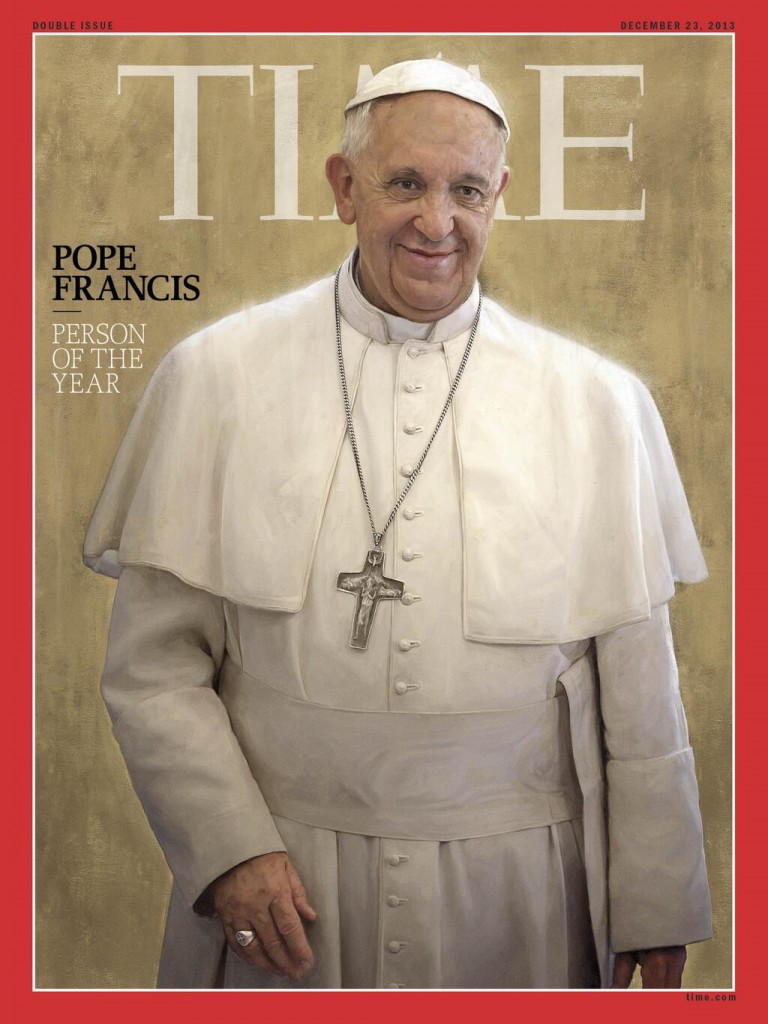 Yeah, John Paul II was kind of a rock star, but at the moment, papal stock seems to me at an all-time high.
The pontiff is having a very good day today:
He was named TIME's Man of the Year (oh, wait, they call it "person" now, don't they?).
An ABC/Washington Post poll found that among Catholics, 85 percent approve of the direction in which he's leading the Church, while only 7 percent disapprove (so much for that conservative Catholic backlash we keep hearing about).
Even Jezebel, a website that I only know about because Kathryn sends me links to it, shouts "Pope Francis Is the Princess Diana of Popes." The same site earlier said that "the coolest pope ever" is "basically the Beyoncé of organized religion." I'm not sure, but I think maybe Diana is even a step up from that. His stock just keeps rising, even among the unlikeliest audiences (you have to have read a few of the Jezebel links Kathryn has sent to fully appreciate what I mean).
I hope no one thinks this demeans him in anyway, but this Bishop of Rome is a public relations genius. Which is kinda what the Church needs these days.
He hasn't changed a thing, other than perception, but that is huge. He hasn't changed any doctrines (frankly, I'm not all that sure an individual pope can do that on his own — maybe some of y'all more conversant with canon law can shed light on that), including the kind that make smoke come out of the ears of writers at Jezebel. OK, he busted the Bishop of Bling (who was sort of this pope's polar opposite, PR-wise). That did something. But mostly, it's about the perception.
What he's done is make just about everybody feel better about the Church. Which helps the Church in doing its actual job, which is to be the physical manifestation of Christ in this wicked world — spreading the message of love, healing the sick, helping the poor and outcast. It's kind of hard to get those messages across when so much of the world is holding its hands over its ears and making loud noises to shut you out.
This pope has, in a startling brief span of time, gotten those people to take their hands from their ears and stop going "AAAUWAUWAUWA!" and start listening, because they like what he's said so far and are eager to hear what he'll say next.
Years from now, when the Church is contemplating whether to canonize him (which at this point seems highly likely), this should go on the scoreboard as his first miracle.