While I was gone, one of my ADCO colleagues pinned this item on Pinterest, and my attention was drawn to it today when I saw it had gotten some repins.
It was a fun graphic from Digital Information World about all the associations we have with various colors. But what grabbed my attention was the observations about the political meanings of two colors in particular: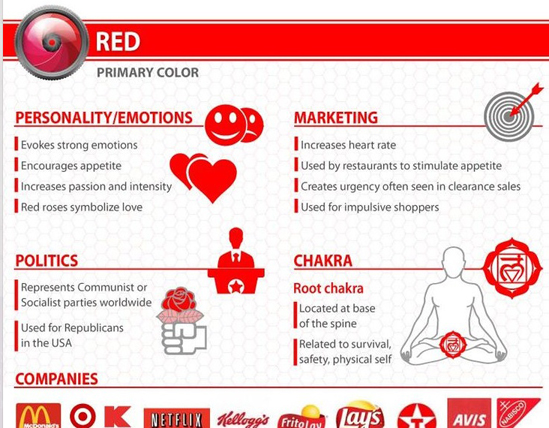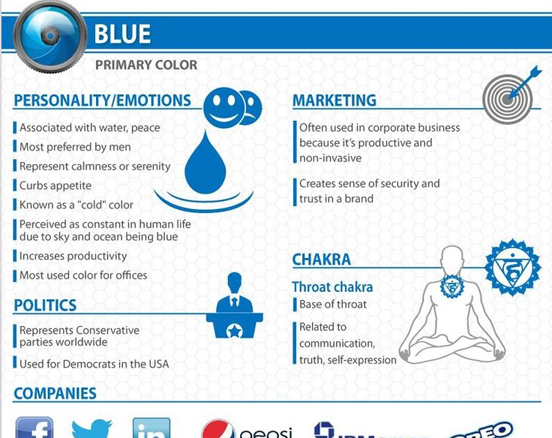 Indeed, I have found this whole business of calling conservative states "red" and liberal states "blue" confusing ever since it got started.
Red has always been the color of revolution, of overturning the status quo, of charging the ramparts in the cause of radical change. Blue is the natural color of conservativism, as in blueblood, or the blue associated with royalty. Red is hot and dynamic, while blue is cool, sedate, satisfied with the status quo.
So why have we so widely accepted the opposite in recent years? Well, it was pretty random. Here's Wikipedia's account:
This terminology came into use in the United States presidential election of 2000 on an episode of the Today show on October 30, 2000. According to AlterNet and The Washington Post, the terms were coined by journalist Tim Russert, during his televised coverage of the 2000 presidential election.[1] That was not the first election during which the news media used colored maps to depict voter preferences in the various states, but it was the first time a standard color scheme took hold; the colors were often reversed or different colors used before the 2000 election.
It was just that random. Whoever made up the graphic just happened to use those colors that day, and it stuck, contrary to all reason.
And in the very next graf, Wikipedia acknowledges the contradiction:
This reverses a long-standing convention ofpolitical colors where red symbols (such as the Red Flag or Red Star) are associated with revolutionary movements, and conservative movements often choose blue as a contrasting color.[2]
That's right. Anyway, it still bugs me…