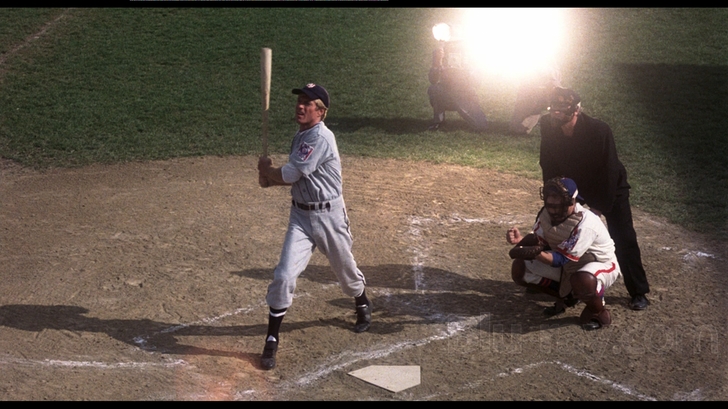 Marking the start of the season and the release of the new movie about Jackie Robinson, the WSJ offered a slideshow of stills from baseball movies this morning, which was fun to flip through.
It didn't really make judgments or rank them. It just grouped them into categories: One Last Shot ("The Rookie," "Mr. 3000″); The Church of Baseball ("The Natural," "Field of Dreams"); Game Changers ("Moneyball," "A League of Their Own"), etc.
But what's a list without a Top Five? So I quickly drew one up. And only after drawing it up, while feeling a bit of déjà vu, did I realized I'd done this before. (When I realized that, I almost trashed this post, but then thought maybe some of y'all would enjoy it anyway.) The new list differs slightly from what I said before, indicating that list-making is affected by mood. Or something. Here's what I came up with this morning:
Initially, I was going to say sorry, ladies… I couldn't include "A League of their Own" because there was crying in it, and there's no crying in baseball. That was my first thought this morning. Last time, I included it at number five, on account of the deep flaws in "Field of Dreams." Such as Ray Liotta being nothing like Shoeless Joe Jackson. (D.B. Sweeney in "Eight Men Out" was a thousand times better.) And the famous writer not being J.D. Salinger, which is who he was in the novel.
And because its gauzy sentimentality seemed more forced and artificial, unlike in "The Natural" and "The Sandlot." Like the difference between sugar and saccharine.
So, never mind. I think I was right in 2011… In fact, the only reason I'm posting this is to celebrate the season, and give any of y'all who missed the previous post a chance to voice your opinions.