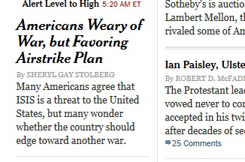 When I saw the above headline on the NYT's homepage, I couldn't help Tweeting the following:
How can they be weary of war? Most of them haven't BEEN to war. "Americans Weary of War, but Favoring Airstrike Plan" http://t.co/mROWzLq2uF

— Brad Warthen (@BradWarthen) September 12, 2014

My point, in case it isn't clear, was that I keep hearing all this talk about how war-weary Americans are, when the overwhelming majority of them haven't experienced a minute of it.
So what is it that they're weary of? Hearing about it? That seems really — superficial, for want of a better word.
I'm glad polls are showing that the president has backing for his limited plan for dealing with ISIL. But I am disturbed that American public opinion can be so flighty with regard to such weighty matters.
One day, they're all "We don't want any more war! Don't talk to us about war! We're going to make loud noises and repeatedly cover and uncover our ears until you stop talking about war! WAH-uh-WAH-uh-WAH-uh-WAH-uh…"
The next day, they're all "We gotta stop ISIL! The president wants to bomb 'em! Go for it! Bomb 'em! (Then, maybe we don't have to hear about them any more!)"
The day after that, they're all "Are we still bombing ISIL? We're tired of that! We don't want to hear about that any more! We're war-weary! What time does 'American Idol' come on?"
And what's bad about that is that our elected leaders respond to those impulses. No matter what sacrifices are made on the battlefield by the few, politicians will pull out before the aims are achieved if the people get fed up — which they do very, very suddenly.
Anyway, those are the thoughts that go through my mind when I see headlines such as that. And for a brief moment, I don't want to commit military forces to any cause ever in the future, if it's going to be fought with politicians' fingers in the wind.
But then, I think, Well, regardless of all that, out in the real world, we really need to stop ISIL…