A few days ago, Kirkman Finlay, who is facing re-election to his House seat, started following me on Twitter.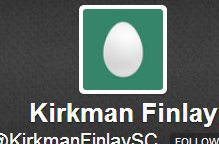 I immediately saw that he could probably use some help with social media. His avatar is still, as Valentine Michael Smith would say, only an egg.
He could probably also use some help explaining to voters his bill, H.4453, which seems designed to help out Speaker Bobby Harrell by making the illegal things he's been suspected of doing legal.
That bill suddenly started getting acted upon in the House as it became apparent that Harrell's attempt to secretly toss Attorney General Alan Wilson off his case was doomed to fail.
But that's just the beginning. You really need to read Cindi Scoppe's remarkable column today, which tied together a web of House initiatives that seem reminiscent of the way Silvio Berlusconi's legislative allies kept legislating him out of trouble, by making the illegal legal.
As I said, H.4453 is only the beginning:
Then, in the most audacious move to date, 85 House members last week filed H.5072, which would empower the House speaker and Senate president pro tempore to appoint a special prosecutor to conduct State Grand Jury investigations into the attorney general and other "constitutional officers." One of the initial sponsors — Wilson campaign attorney and Democratic Rep. James Smith — said that term also covers legislators, which means it would allow the speaker and president pro tempore to stop any attorney general investigations of legislators.

Of course the bill wouldn't actually accomplish that because our state constitution names the attorney general as "the chief prosecuting officer of the State with authority to supervise the prosecution of all criminal cases in courts of record." So the sponsors — led by Kris Crawford, against whom Mr. Wilson's predecessor, Henry McMaster, brought tax-evasion charges in 2010 — also filed H.5073 to remove that language from the constitution.

If that passed, not only would the speaker and president pro tempore be able to stop any attorney general investigations, or initiate investigations into the attorney general, but the Legislature would be free to strip attorneys general of all power. The House unanimously agreed to bypass the committee process for both measures and place them on the calendar for immediate debate, an extraordinary thing to do for anything other than congratulatory resolutions and local legislation.

Let's recap: I count five attempts in a year by Mr. Harrell's friends to intimidate the attorney general or else quash first a SLED investigation and now a Grand Jury investigation. Which seems like a lot for someone who insists he hasn't committed any crimes — or even violated any non-criminal provisions of the ethics law….
Wow, huh? (The boldface emphasis is mine.)
John Monk did good work recently revealing the move to get Wilson secretly tossed off the case. But this masterful column paints a picture of a pattern far more sweeping, and more disturbing, than that. It's the kind of thing that reminds us why we have a First Amendment.
Good job, Cindi.