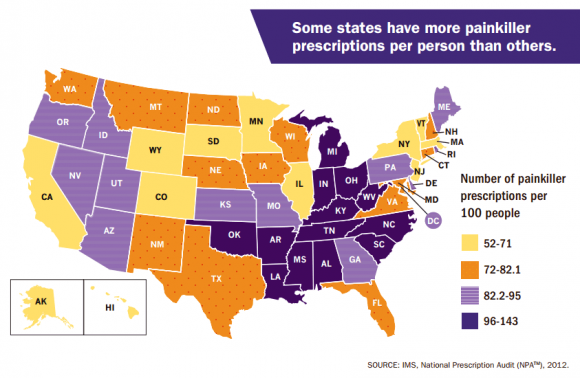 Burl Burlingame says he was discussing this with our fellow high school classmate Gary Berliner, a physician in Georgia, and he shares:
Health care providers in some states prescribe far more painkillers than those in other states, according to a new government report.

Health care providers wrote 259 million prescriptions for opioid painkillers in 2012 – many more in some states than in others – according to Vital Signs, the report by the Centers for Disease Control and Prevention that highlights the danger of overdose.

Health care providers in the highest prescribing state, Alabama, wrote almost three times as many of these prescriptions per person as those in the lowest prescribing state, Hawaii. Most of the highest prescribing states were in the South.

CDC said previous research has shown that regional variation in use of prescriptions cannot be explained by the underlying health status of the population…
Burl notes that Hawaii, where he and Gary and I graduated from high school and where Burl still lives, had the lowest number of such prescriptions. To that, I'll say two things: Hawaii is easily the least painful place I ever lived, and 52-71 prescriptions per 100 people is nothing to write home about.
I thought that chart above contained a huge error at first: 95-143 prescriptions per 100 people in SC and the rest of the South? More prescriptions than people? Surely they meant per 1,000, or per 100,000. But then I saw that figure of 259 prescriptions, and realized yep, that's one for almost every one of us.
Wow. I mean, I'm not the most stoic of men myself, but the only time I was ever prescribed oxycodone was after sinus surgery years ago. I've been prescribed hydrocodone for pain a couple of times in my life, such as after I broke four ribs kick-boxing in 2001. I took it for a month — I couldn't have slept otherwise — and I found it unpleasant to quit (jangled nerves, irritability for several days). But I was very glad to say goodbye to it.
What are people taking all these pills for?
I was interested to see the Tennessee numbers. That's where Dr. Nick prescribed so freely for Elvis. It's also where, a few years later in Gibson County, we covered a case of a woman found dead with an astounding number of pill bottles around her. Fingers were pointed at a local physician who the whole town knew was an easy touch for drugs. Sometime before that, I had been sitting in General Sessions court, waiting for the arraignment of a murder suspect, listening to the disposition of several lesser cases, when a young woman was called to the stand to account for the drugs that had been found in her purse at a traffic stop. Percodan or some such.
"My doctor prescribed those for me," the young woman protested.
"Your doctor is Dr. So-and-So, isn't he?" asked the judge with a world-weary manner. Yes, he was. Everyone knew about him. (I remember his name but I'm not using it because the man's dead, and I still remember with some sympathy the pain of his family when we mentioned the case in his obit.)