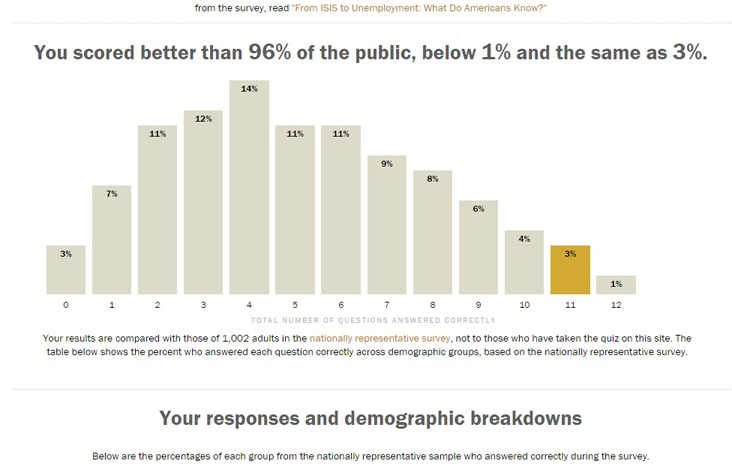 The trend continues.
There was a story in The Washington Post this morning about the fact that "One third of Americans think the government spends more on foreign aid than on social security."
Stupid one third. Of course, this is a continuation of the stubborn belief that we spend some huge proportion of our budget on foreign aid, when we spend about 2 percent on it. People continue to get this wrong, against all reason, even though their foolishness has been written about over and over and over and over and over. This is related to the increasing irrational hostility toward government in general — most people don't like the idea of foreign aid, so they overestimate how much is spent on it.
It's the sort of thing that makes you want to give up on democracy. On your bad days, anyway. At the least, it underlines the superiority of representative democracy over the direct kind.
Anyway, the story said the findings came from one of those Pew quizzes I like so much, so I immediately went and took this one. I got 11 out of 12 right, putting me ahead of 96 percent of those tested.
But… and here's the really, really embarrassing thing… I missed the same question as the stupid one-third did. No, I didn't say "foreign aid." I gave a different wrong answer. I knew the right answer, and if I had just done it in a hurry, I'd have gotten a 100. But I thought, "I haven't compared these things in awhile. Maybe this other thing has overtaken the one I think it is. Maybe this is a fargin' trick question." So I chose the other thing. But it was, of course, the first thing.
The irony is that if I had done what I have to do taking the weekly Slate News Quiz, I'd have gotten it right. That test is timed, and I hate that about that test. I also hate that it is deliberately about details in the news, rather than about whether you know overall what's going on, and the relationships between different facts (which is what Pew tests).
Anyway, this being Friday, I went and took that one. And bombed. See the results below.
I would do better on that if it weren't timed. I can usually see through the red herrings and at least intuit the right answer if I take a little time. But you're penalized for taking time. So I do badly. Note that I completed the test in one minute, 47 seconds. Which for me is barely enough time to properly consider one question, much less 12.
And yet, I took too much time on the other test. Go figure.