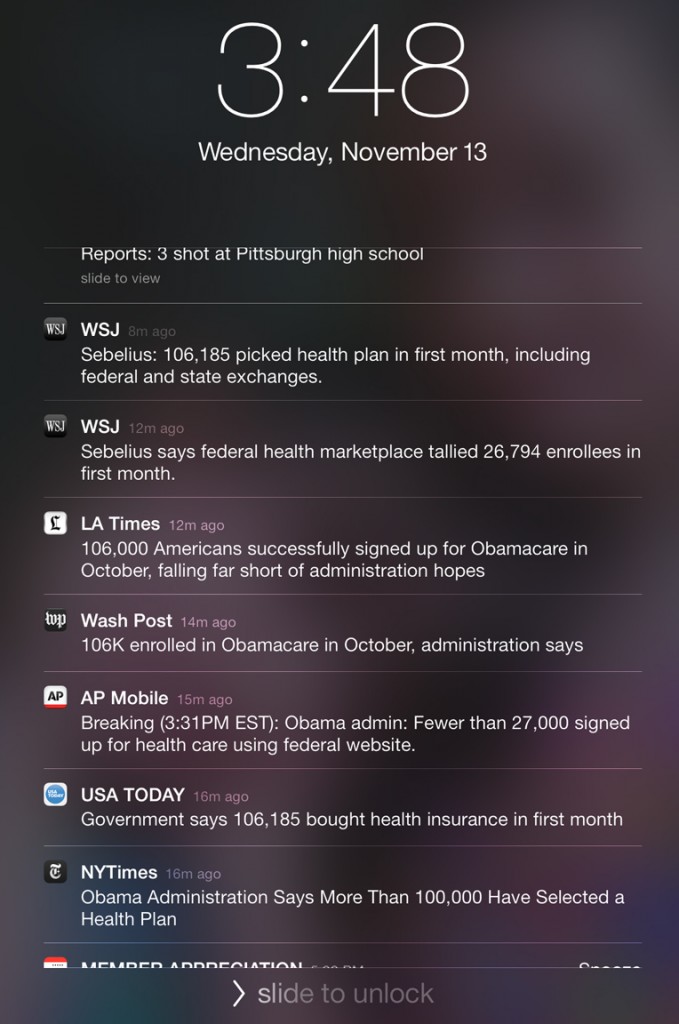 Peruse the above image of the lockscreen of my iPad at 3:48 p.m. today. Here's what I thought I understood from those headlines, which all came in within an eight-minute period, while I was in a meeting and couldn't stop to read further:
More than 100,000 used healthcare.gov to pick a plan in October — way more than previously reported!
No, only about 26,000 signed up.
 No, it was 106,000!
… but that was way fewer than hoped.
No, wait; it's just 26,000. That's according to Sebelius.
No, according to Sebelius, it's 106,000!
When you go beyond the headlines, you see that the 106,000 includes people who signed up through state exchanges (which SC does not have), and only 26k through the federal exchange. And the 106,000 number is way, way fewer than the Obama administration had hoped for and projected.
But, according to Sebelius, about a million people have gone far enough through the process to determine that they are eligible to enroll in a plan.
And off we go again…
Oh, and you'll notice at the top of that stack of headlines that one had just come in on a story with far easier-to-understand, but more horrific, numbers…