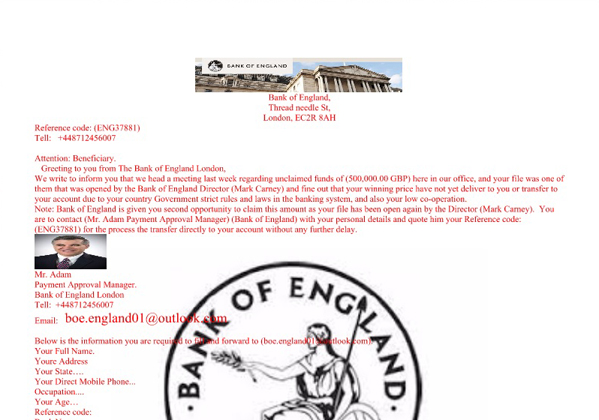 Got a spam email that I opened because the headline — "office uk" — made me think someone had sent me something fun about David Brent et al.
But what I got instead was a very junky, amateurish-looking Word document that began:
We write to inform you that we head a meeting last week regarding unclaimed funds of (500,000.00 GBP) here in our office, and your file was one of them that was opened by the Bank of England Director (Mark Carney) and fine out that your winning price have not yet deliver to you or transfer to your account due to your country Government strict rules and laws in the banking system, and also your low co-operation.

Note: Bank of England is given you second opportunity to claim this amount as your file has been open again by the Director (Mark Carney). You are to contact (Mr. Adam Payment Approval Manager) (Bank of England) with your personal details and quote him your Reference code… without any further delay….
Look, whoever you are: I'll believe you're with the Bank of England when you master the Queen's English.
Harrumph.
Now watch — my snobbishness just cost me half a million quid. Which I could have used…