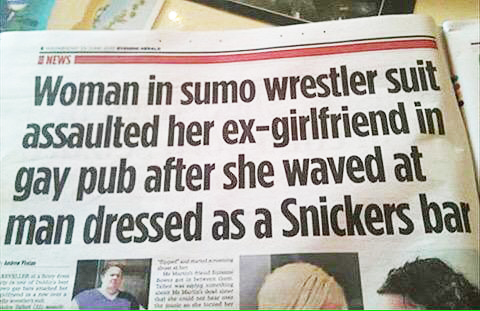 Bryan Caskey brought the above headline to my attention last night. I don't know where he found it.
It prompts three thoughts:
The journalistic pedant in me protests that this is not a headline. It's a lede and a good bit of the next graf. But hey, kudos to whoever had the sand to decide to hell with the rules; we're gonna get all of this into the headline! But then, what choice did the editor have? What were they going to do, leave out the part about the guy she waved at being dressed as a Snickers bar?
As I Tweeted to Bryan in reply, "After that, the headline writer died happy…." I mean, seriously, what does he have to look forward to after that? He's never going to top it.
If the copy editor did decide to cling to life — as we humans are wont to do — he should retire from his job at the tabloid, turn this headline into a country song and head to Nashville. Fame awaits.